Conscious, fresh and delicious – culinary delights at the Viennese Ice Dream
High-quality gastronomy with a varied offering for all palates is not an option at the Viennese Ice Dream – it's a must!
Spicy, savoury, sweet… You'll find a wide range of delicious dishes for every gourmet, prepared with a focus on regional sourcing as well as on organic quality.
Almhütte and Chalet
For the first time, Kolarik's Almhütte will offer a 100% organic food and drinks menu. The legendary, crisply grilled Surstelze and the obligatory Krügerl can now be enjoyed sustainably at the 2020 Viennese Ice Dream!
Visitor satisfaction and good service are prized. Visitors can tell at a glance what items on the menu are lactose or gluten free, vegetarian, vegan or organic.
This year, a particular highlight for small parties or private events is the separate ice stock shooting chalet. The exclusive hut with its own ice stock shooting lane can be rented for up to 20 persons. For € 34.60 per person, a platter of entrées and main dishes as well as a Topfenschmarrnpfandl can be served – 100% organic.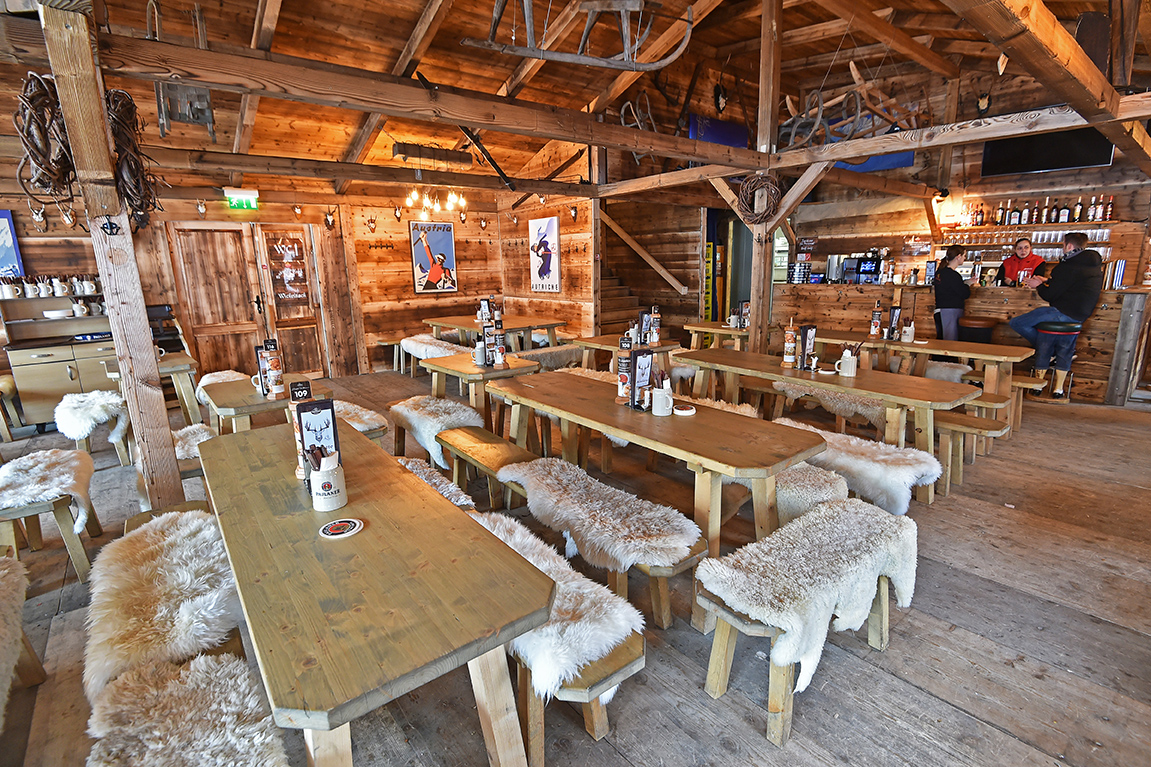 © stadtwienmarketing / Christian Jobst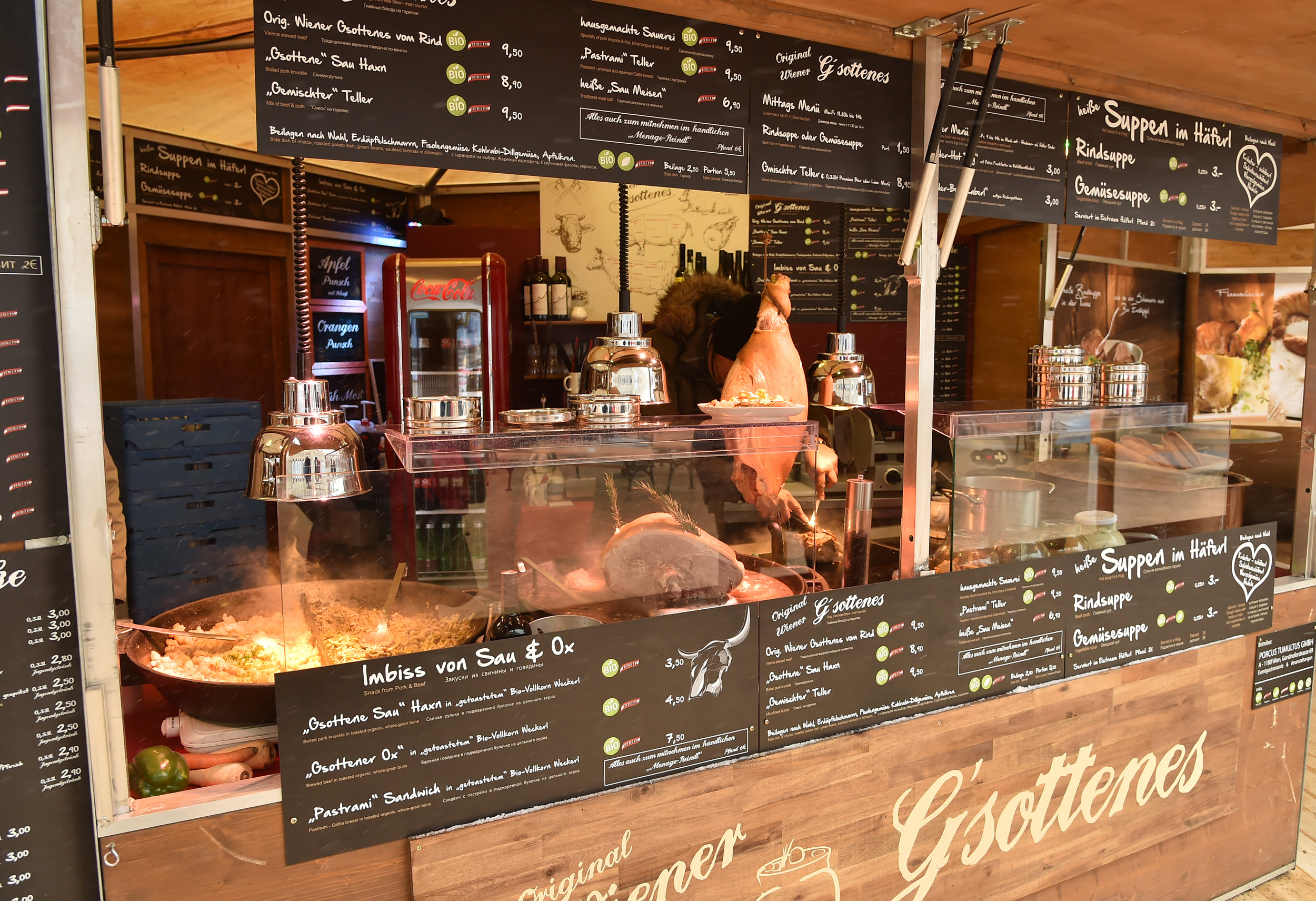 © stadtwienmarketing / Christian Jobst
Gelbmanns Kuchl
For those who like hearty cooking, the Viennese Ice Dream will not disappoint. At the "Wiener Gsottenes und Wurschtkuchl" food stand, hungry visitors are served tender "Kavalierspitz" stewed meat or hearty pork roast in organic quality from the tradition-rich Gelbmanns restaurant. The pork roast comes fresh out of the oven every day at 11:30.
Fantastic side dishes, such as spicy lentils, kohlrabi vegetables, roasted dumplings and potato crock are also offered as vegan and vegetarian main dishes. The offering is completed by over a dozen types of sausages – of course including Hermann Käsegriller. Special sausage types – for example, a Styrian lamb sausage – are offered in limited quantities in two-week cycles. Hot tip for a small snack: hand-cut ham with fresh horseradish – naturally organic from Ottakring.
Nigls Gastwirtschaft
Here, soft pancakes are cooked and fluffy Kaiserschmarrn is caramelised to a lovely golden brown in a giant pan. If that doesn't get you excited, the delicious poppy noodles are sure to.
Not enough? No problem: at the "Nigls Gastwirtschaft" stand, freshly baked vegetables (vegan) and more are offered in addition to the beloved sweets. One highlight is the organic spätzle, prepared in view of the guests.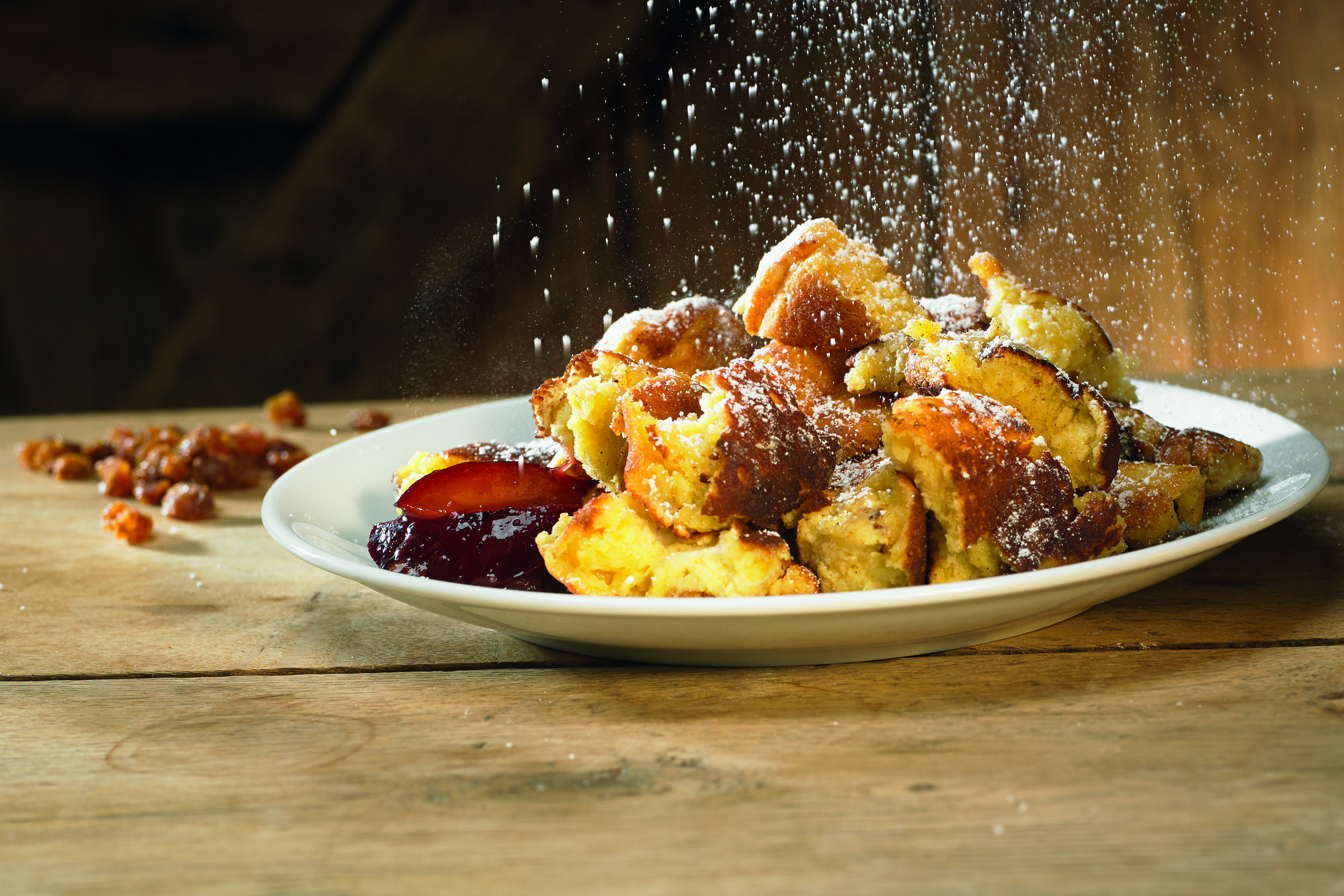 © foodartists.at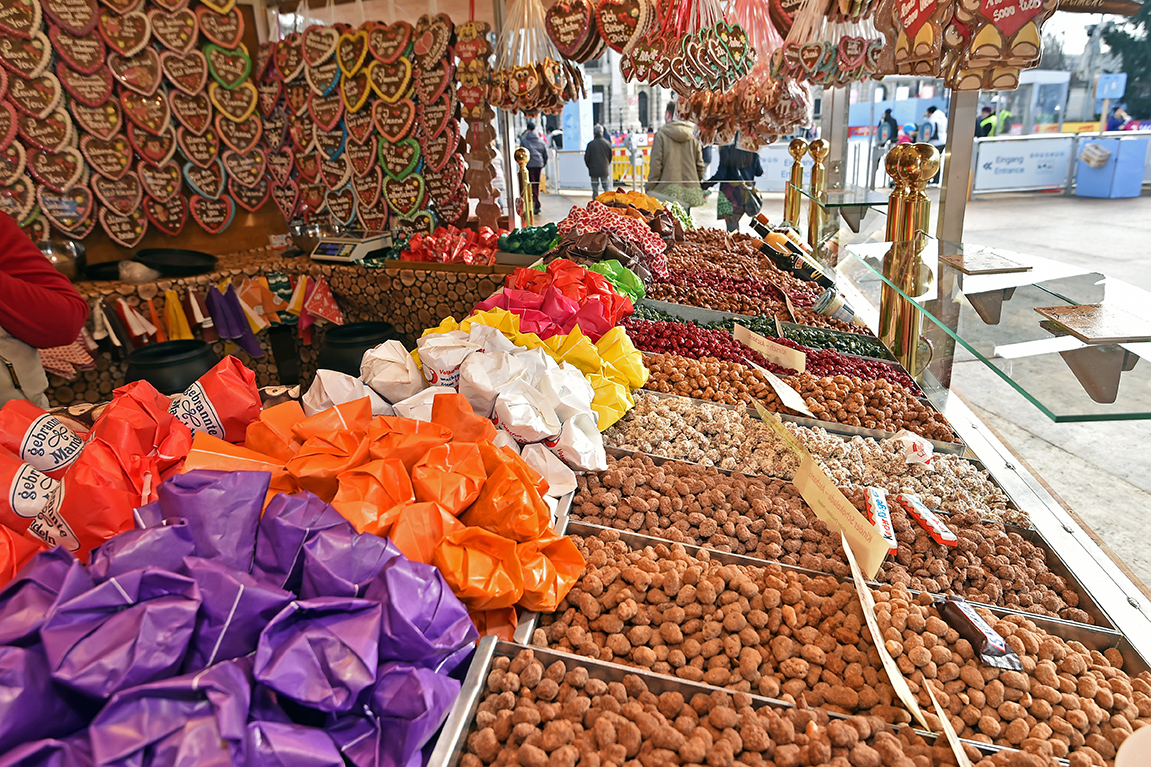 © stadtwienmarketing / Christian Jobst
Candied almonds
The little hut with the colourful Lebkuchen hearts and 25 sorts of fresh candied almonds – including organic ones – has developed a real fan base.
Whether to awaken childhood memories, to have a new taste experience or to acquire the taste for the iconic candied nuts, no visit to the Ice Dream is complete without carrying away a little bag of these nuts – or eating it on the spot.
15 sweet minutes
If you haven't had baked mice yet, you don't know the true taste of Vienna. And if you haven't had them in a while, you've got something to look forward to this season. This year the traditional sweets will be available at the Viennese Ice Dream for the first time.
At "15 süße Minuten", the curd dough balls are freshly baked and filled upon request with vanilla cream, hazelnut cream (naturally, organic and WITHOUT palm oil) or fruity plum jam. But careful: waiting times for the treats, fluffy on the inside and crispy on the outside, can be torture.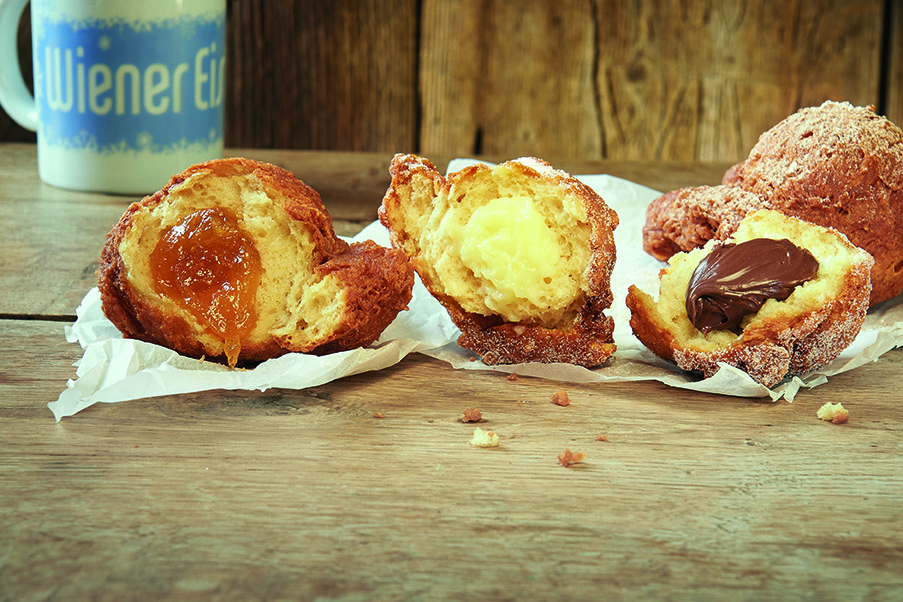 © foodartists.at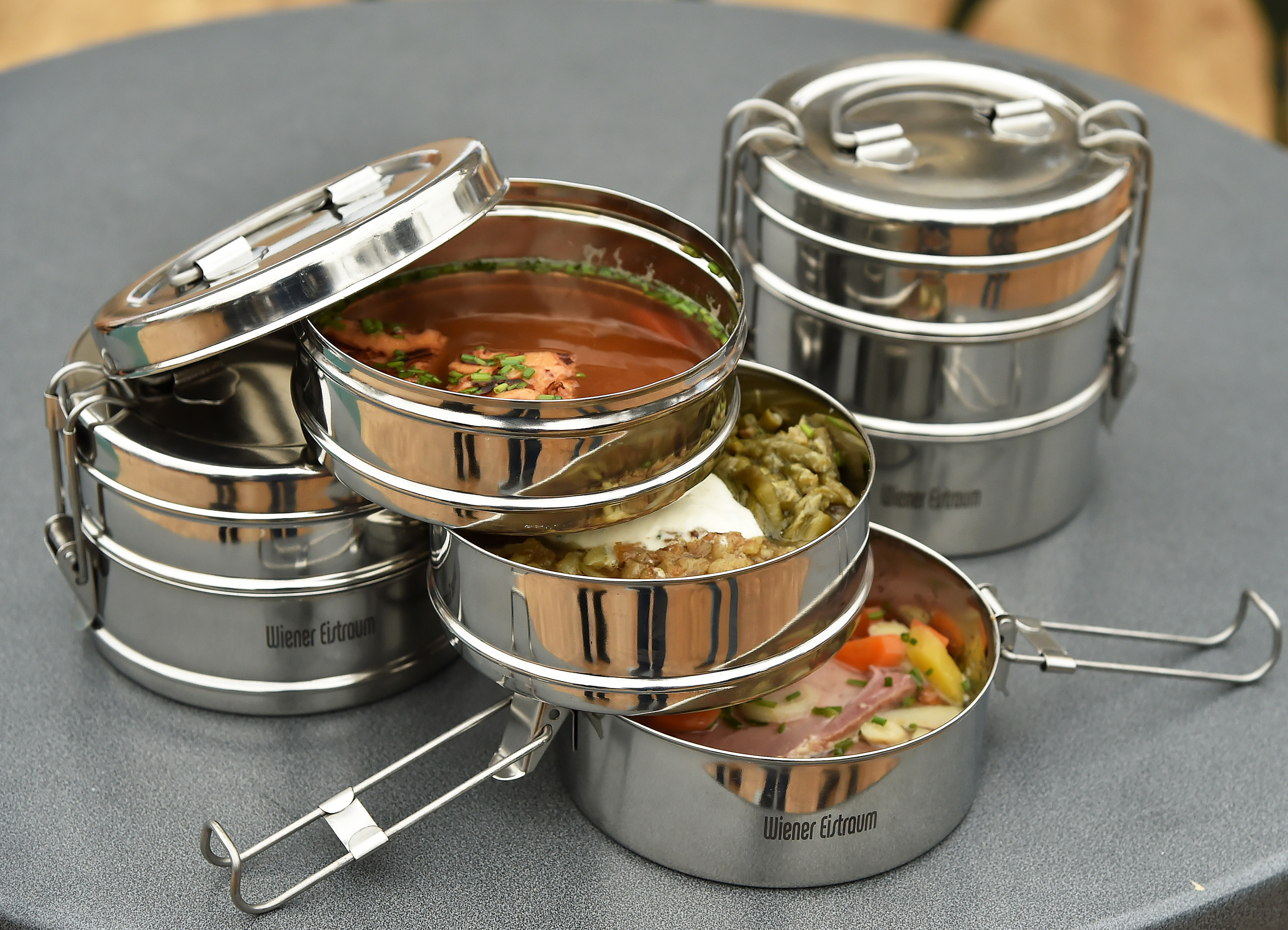 © stadtwienmarketing / Christian Jobst
Viennese Ice Dream – Menage-Reindl
The culinary offering at the Viennese Ice Dream is simply too good to enjoy just now and then. But there isn't always time for a proper lunch break or a pleasant evening on the Rathausplatz. So all those who wish to take the delicious dishes home, to the office, or to friends and family can now do so with a clean conscience.
Menage-Reindl offers a stylish, absolutely waste-free and completely environmentally friendly take-away option for all fans of the Ice Dream gastronomy.
The metal container with clasps can be filled with delicacies up to three stories high and is available against a deposit of € 6.