The Viennese Ice Dream is coming back: Between January 19 and March 6, 2022, Rathausplatz will become the largest ice surface in the city
The Little Ice Dream as part of the Vienna Christmas Dream will not take place in the 2021/22 season.
All-round protection for a carefree skating experience

In use for the first time at a major event in Vienna is the Community Distance Marker, an innovative piece of security technology that helps people keep to the prescribed minimum distance and at the same time facilitates targeted contact tracing. All visitors are given a small device that emits a visual signal, vibration and a beeping sound when the wearer comes too close to other people. Data recorded by the device can also be evaluated for the purposes of contact tracing.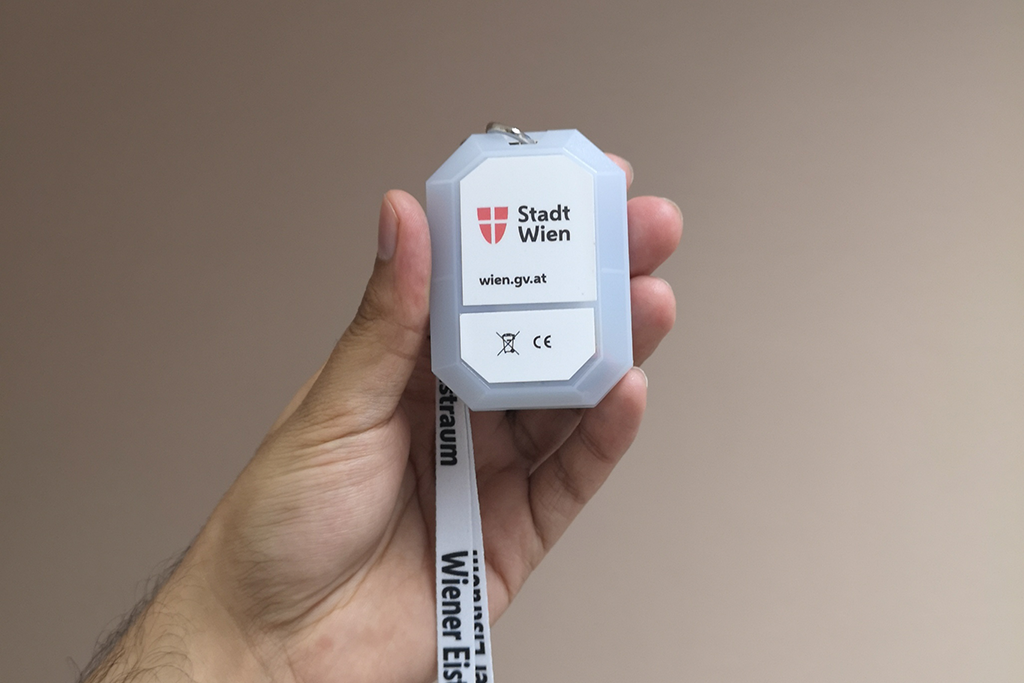 © stadtwienmarketing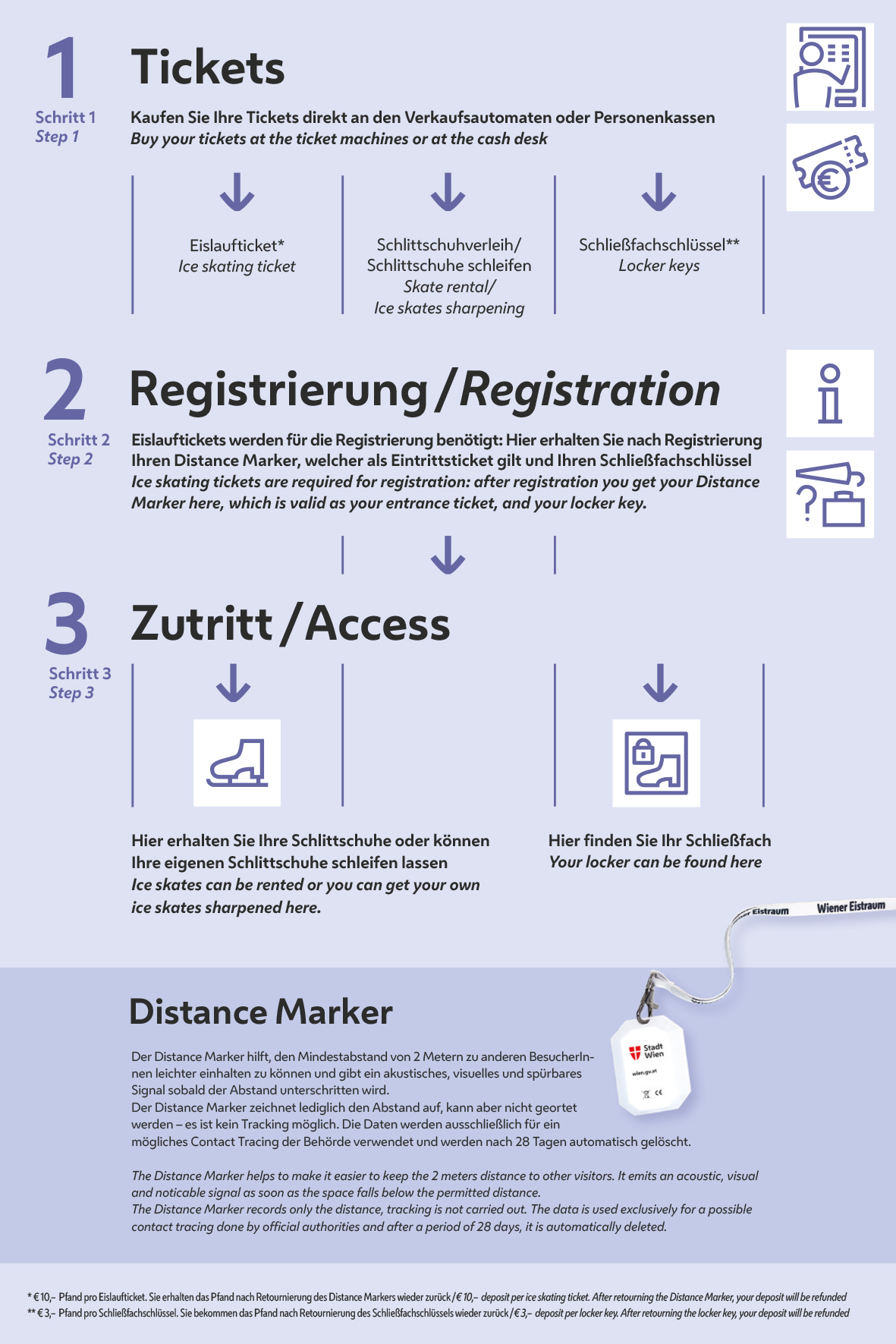 What's different this year?

First, the good news: 8,300 m2 of ice are available to visitors this season, naturally including the spectacular Sky Rink and Dream Paths through City Hall Park. Other favourites with the public, such as the catering, curling lanes and free practice rink, are having to take a break in 2020/21. Small children can continue to use the ice free of charge.
What's more: tickets must be purchased directly on site this year.
Your visit to the Viennese Ice Dream

Buy your tickets at the counter and leave a €10 deposit for the Community Distance Marker.
Register using your name and phone number.
Done. You can now go skating and even remove your face covering on the ice rinks.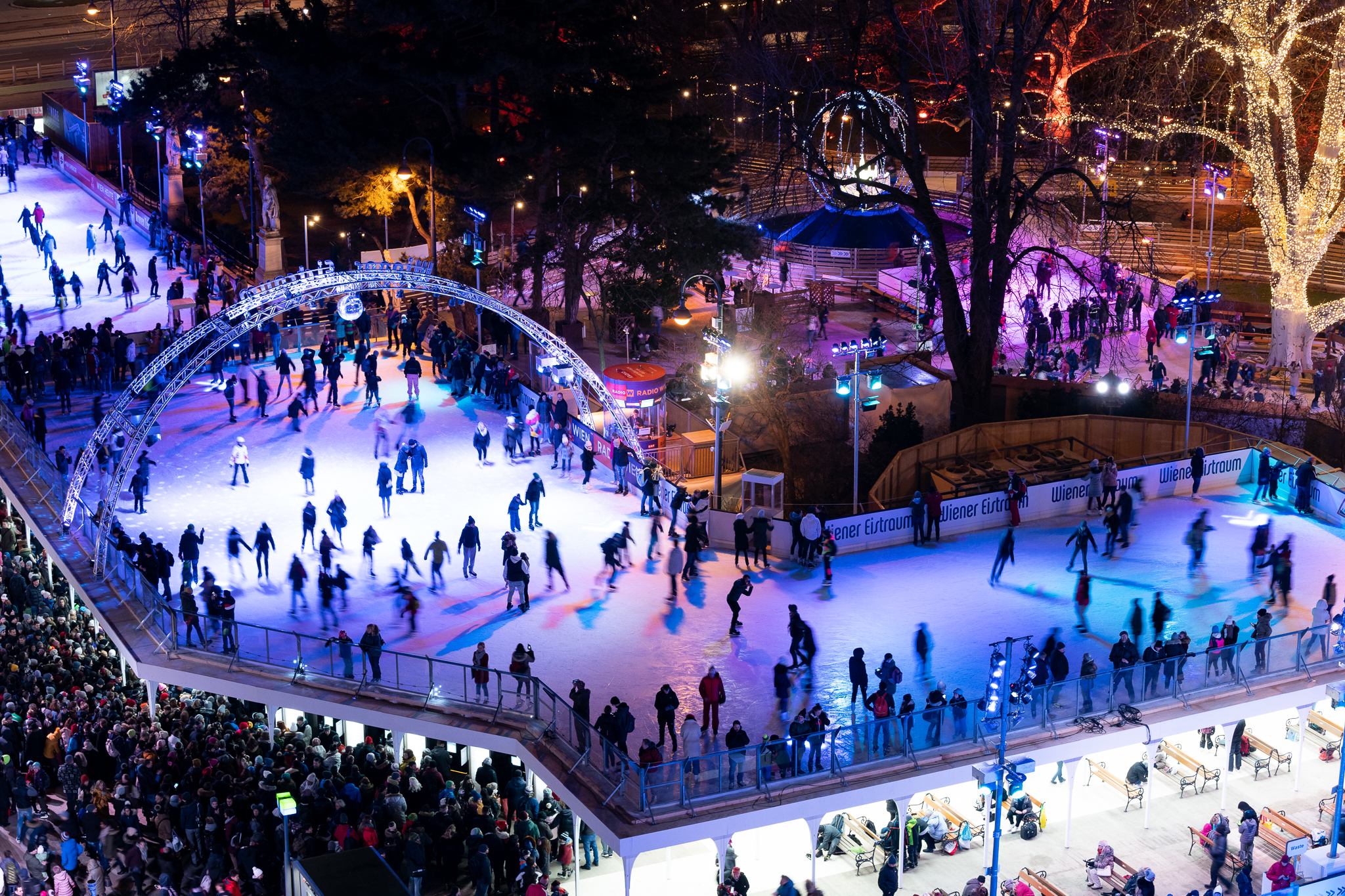 © stadtwienmarketing / David Bohmann
High-level ice skating
Ice skating fans can really work up speed on the gigantic area of around 9,000 m2. Along with an incomparable atmosphere, visitors can expect a unique icescape leading across four large rinks and romantic paths through the park all the way up to the first floor. Since 2019, skating on two levels has been possible with the construction of the spectacular SKY RINK ice terrace. Free practice areas invite children and beginners to take their first steps on the ice, while eight ice stock shooting lanes provide entertainment for team games. All this, and so much more, make the winter paradise between Rathaus and Burgtheater a unique attraction worldwide – the ultimate ice skating pleasure!
On-site ice skate rental
No skates of your own? No problem! The Viennese Ice Dream naturally also provides a good assortment of rental skates: some 2,000 pairs of air-warmed skates in sizes 23 to 52. In addition, 300 helmets and adjustable double runners in sizes 21 to 25 are available for children for free.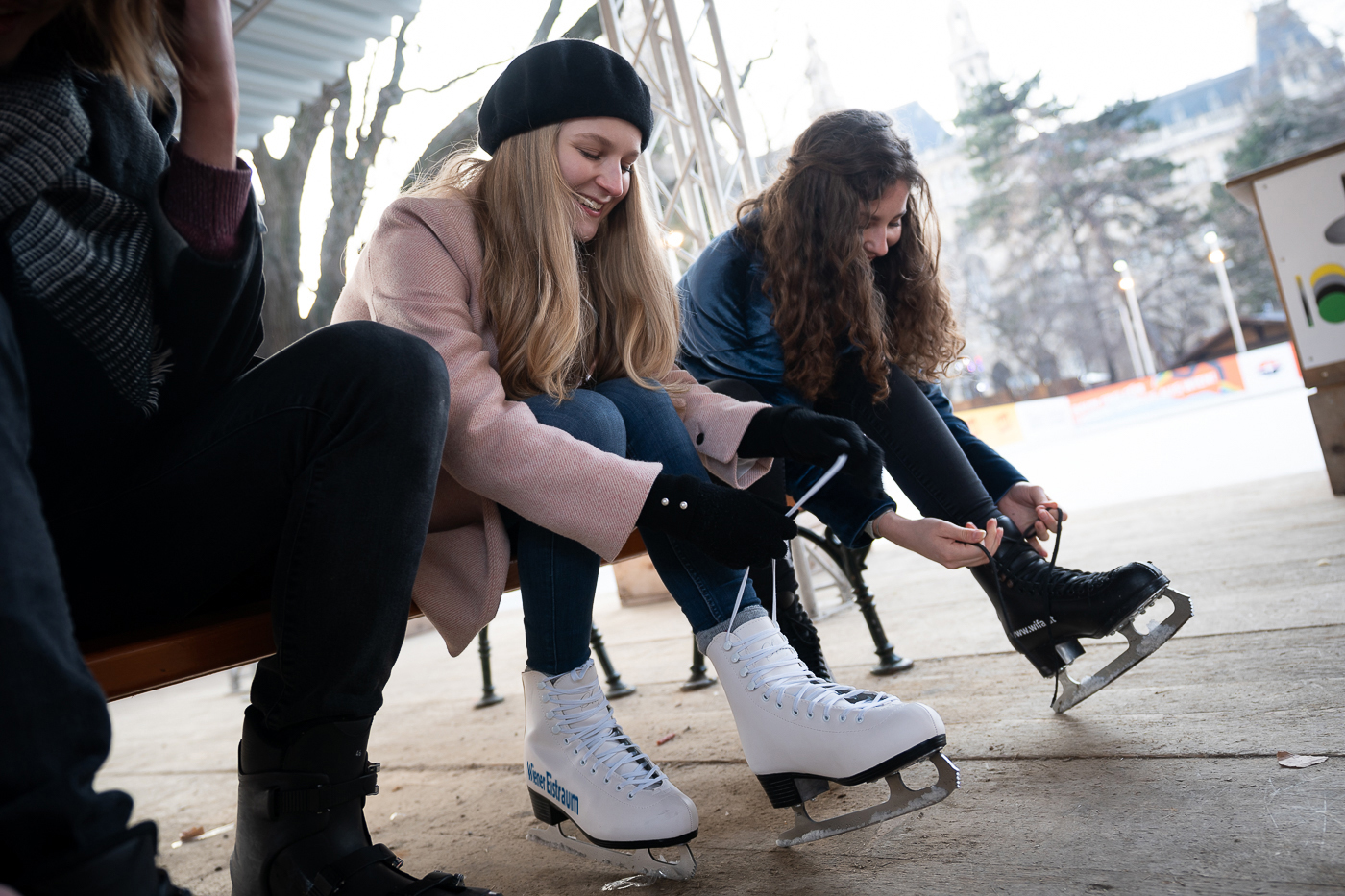 © stadtwienmarketing / David Bohmann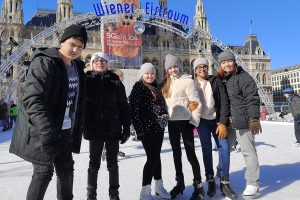 © stadtwienmarketing / Jutta Schmidt
Free exercise sessions for schools
The city of Vienna invites all Viennese kindergartens, schools and day care centres in the school association to skate for free at the Viennese Ice Dream – an offer that is especially important this year due to the restricted opportunities for sport in gyms and school buildings because of coronavirus. This "school campaign" is valid on school days from 10.00 am to 4.00 pm, Monday to Friday, and enables safe and enjoyable exercise in the fresh air. The offer is taken up by around 45,000 children every year.
An emphasis on sustainability
A responsible waste management system, numerous measures for reducing energy consumption, electricity generated entirely from hydropower and much more besides – at the Viennese Ice Dream, environmental protection and sustainability take top priority. For its efforts, the popular winter highlight has even been awarded the "ÖkoEvent" certificate in 2020.
Opening hours
The Viennese Ice Dream will come back!
January 19 – March 6, 2022
How to get here
By public transport:
* Lines 1, 71 and D  (Rathausplatz/Burgtheater stop)
* Line 2 (Parliament stop)
* U2 (Rathaus station)
To the practical route planner of Wiener Linien
Cycle paths run both in front of (Universitätsring) and behind City Hall (Friedrich-Schmidt-Platz). Plenty of bicycle parking is available. A Citybike station is located right in front of City Hall Park.
Not far from the Viennese Ice Dream is the BOE Garage at City Hall Park, which can be reached via the Ringstrasse boulevard.
Weather and webcam
View from the Burgtheater onto Vienna's Rathaus: click HERE!