A large portion of ice skating pleasure
The Viennese Ice Dream is not an ice skating rink, but rather a huge icescape. On some 9,000 m2 of icy surface, beginners and experts alike will find diverse possibilities to practice the beloved winter sport.
Four large ice skating rinks, ranging from 350 m² to 1,900 m², offer plenty of space for lively motions and generous tours on the ice. The Traumpfade (Dream Paths) are there for those who prefer to gently glide around. These paths, 550 m in total length, lead through the middle of the romantically lit Rathauspark and connect the large ice rinks to each other.
Those who want to go higher can head to the SKY RINK. The 880 m2 ice terrace on the first floor, newly constructed in 2019, is easily reached via a 120-metre-long access ramp and offers an impressive view of Vienna's Rathausplatz and the magical world of the Viennese Ice Dream. The cool pleasure is underscored by the powerful sounds of Radio Wien's DJs and fascinating lighting effects.
Two free practice areas of 125 m² and 550 m² are available for children and beginners. Aids shaped like penguins hold out a supporting flipper for those first steps on the ice.
The Viennese Ice Dream also provides a beloved alternative to the sporty trial of skill for all those who do not want to step directly onto the slippery ice: eight ice stock shooting lanes are available for entertaining team games and round off the varied leisure offerings during the winter months on Vienna's Rathausplatz.
© stadtwienmarketing / David Bohmann
Prices and tickets
Day ticket adults: € 8
Day ticket children: € 5.50
Day ticket seniors: € 6
Season ticket adults: € 78
Season ticket children: € 38
Season ticket seniors: € 58
The price list is valid until 1 March 2020.
Payment is possible by credit card or immediate transfer.
A discount of 10% is granted until the campaign ends on tickets bought in the online shop.
The overall price list can be seen by clicking on the picture!
Ice skates rental
Our rental provides some 2,000 pairs of ice skates, pre-heated with warm air, in the following sizes:
Children's skates from size 23
Men's skates up to size 52
Women's skates up to size 44
For children, we also have free adjustable double runners/sliding shoes in sizes 21 to 25 (limited stock).
Renting skates or double runners requires a deposit of € 50. (You may choose to leave a valid ID instead of the deposit).
We are happy to provide free helmets for the children's safety. These are available at the skating rental against a cash or ID deposit.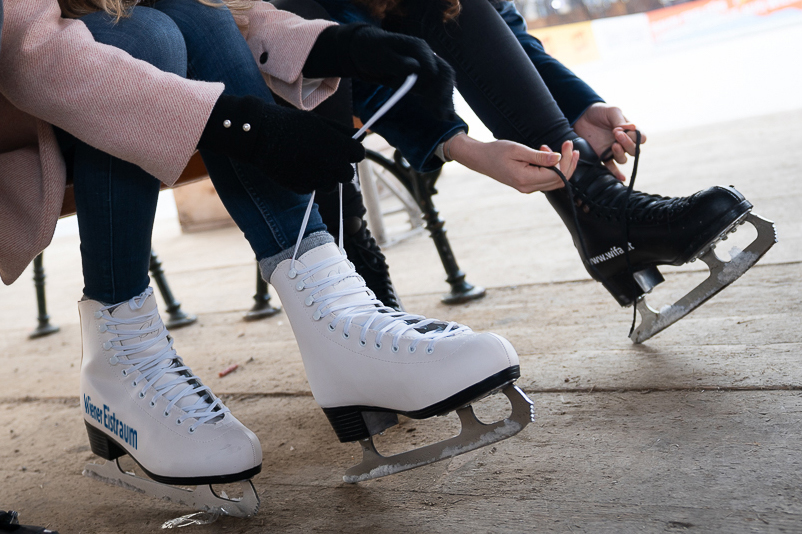 © stadtwienmarketing / David Bohmann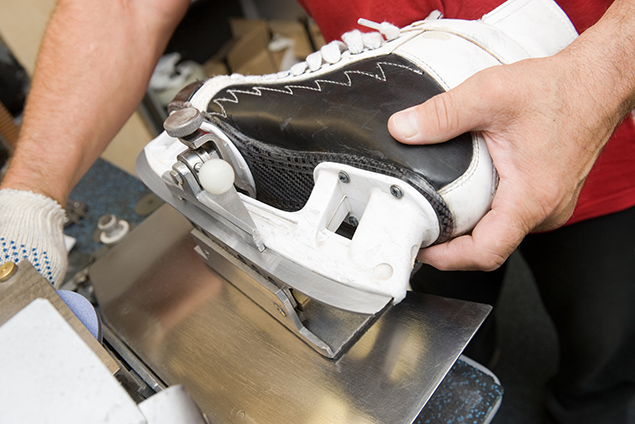 © iStock-zilli
Ice skating services
Lockers
Shoes, handbags and rucksacks can be stored in lockers. The key to the locker is available at the ticket counters. A locker costs € 3 (including 20% VAT), and the deposit for the key is also € 3. (The deposit is returned when you hand back the key at the information counter).
Lockers have the following dimensions: width: 31 cm, height: 31 cm, depth: 42 cm.
Attention: use ends every day at 22:15! It is forbidden to use the lockers outside opening hours and to take the key with you.
Season lockers:
From 15 November 2019 (start of Kleiner Eistraum (Small Ice Dream)) to 01 March 2020 at 22:15, you can rent a seasonal locker (limited number). The seasonal locker costs € 29 (incl. 20% VAT); the deposit for the key is € 3
Attention! From 07 January 2020 to 21 Janary 2020 (included), access to the lockers will not be possible due to a construction site.
Skate grinding
Are your runners blunt? We'll sharpen your skates! Getting your own skates ground costs € 8. Waiting times may be long depending on traffic.
Free ice-skating for schools
The city of Vienna invites all Viennese kindergartens, day care centres and schools, together with the supervisory staff (teachers, educators, day-carers, with ID) to skate for free on school days!
The school campaign runs from Monday to Friday* from 23 January to 1 March 2020, from 10:00 to 16:00. As part of this campaign, skates can be rented at the reduced rate of € 3.50 per pair. Sliding shoes/double runners (sizes 21 to 25) and helmets for children are available for free as long as stocks last.
No reservation is required. The tickets are directly available at the ticket counter; you just need to fill out a reception confirmation.
During the half-term holidays**, entrance is € 3 (instead of € 5.50) for kids from 6 to 13 on the occasion of the wienXtra holiday games. Please note that a deposit of € 2 is required when buying a ticket. Please ensure that there are sufficient supervisory persons present and that all participating children and adolescents are equipped as required. In particular, we recommend solid gloves and helmets.
* only on school days, not on Saturdays, Sundays or holidays
** half-term holidays in Vienna: Monday 3 February – Friday 7 February 2020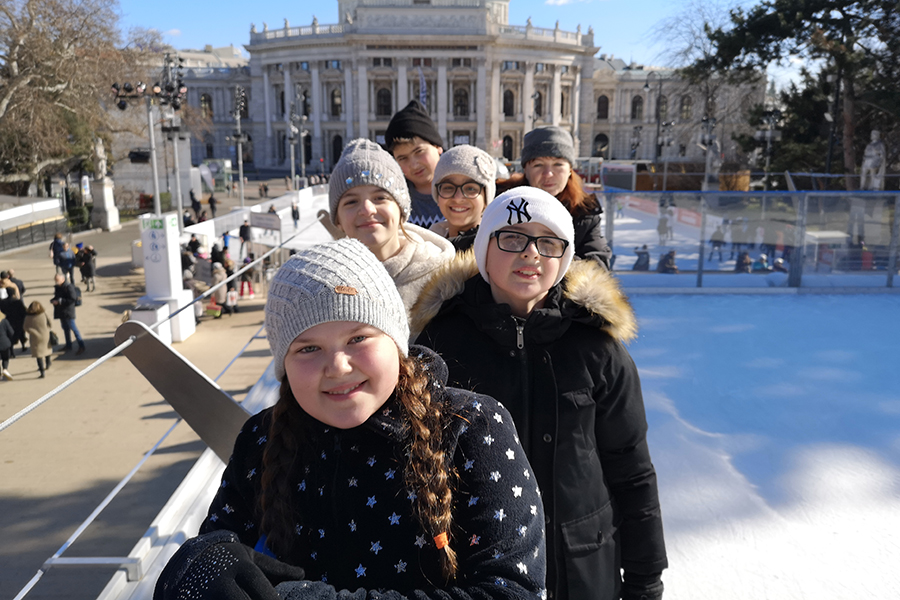 © stadtwienmarketing / Jutta Schmidt