Safety measures
We are very much looking forward to your visit!
Your health matters to us. So please note the following measures and help to protect yourself and others!
Community Distance Marker
In order to ensure all-round safety for visitors and employees and guarantee a carefree skating experience, new security technology was invested in for the Viennese Ice Dream:
Each guest is given a Community Distance Marker (CDM for short) after purchasing their ticket. The CDM is a small device that helps its wearer to maintain the prescribed minimum distance and at the same time enables targeted contact tracing. If a visitor comes closer to a person from outside their household than the prescribed minimum distance of 2 metres, then the CDM begins to beep, light up and vibrate.
Families can define themselves as a group at the time of registration, so that the alarm function is muted within that group of people.
If a visitor is in contact on site with a person from outside of their household for longer than 7.5 minutes and at a distance of less than 2 metres, then this encounter is recorded on the CDM and can be specifically evaluated in the course of contact tracing.
The CDM is used only for measuring the distance; tracking is not possible.
The data are not used for statistical or other purposes but solely for any contact tracing by the authorities and are automatically erased after 28 days.
The Community Distance Marker also serves as an admission ticket at the turnstiles. A deposit of €10 must be left at the counter for each guest and Community Distance Marker.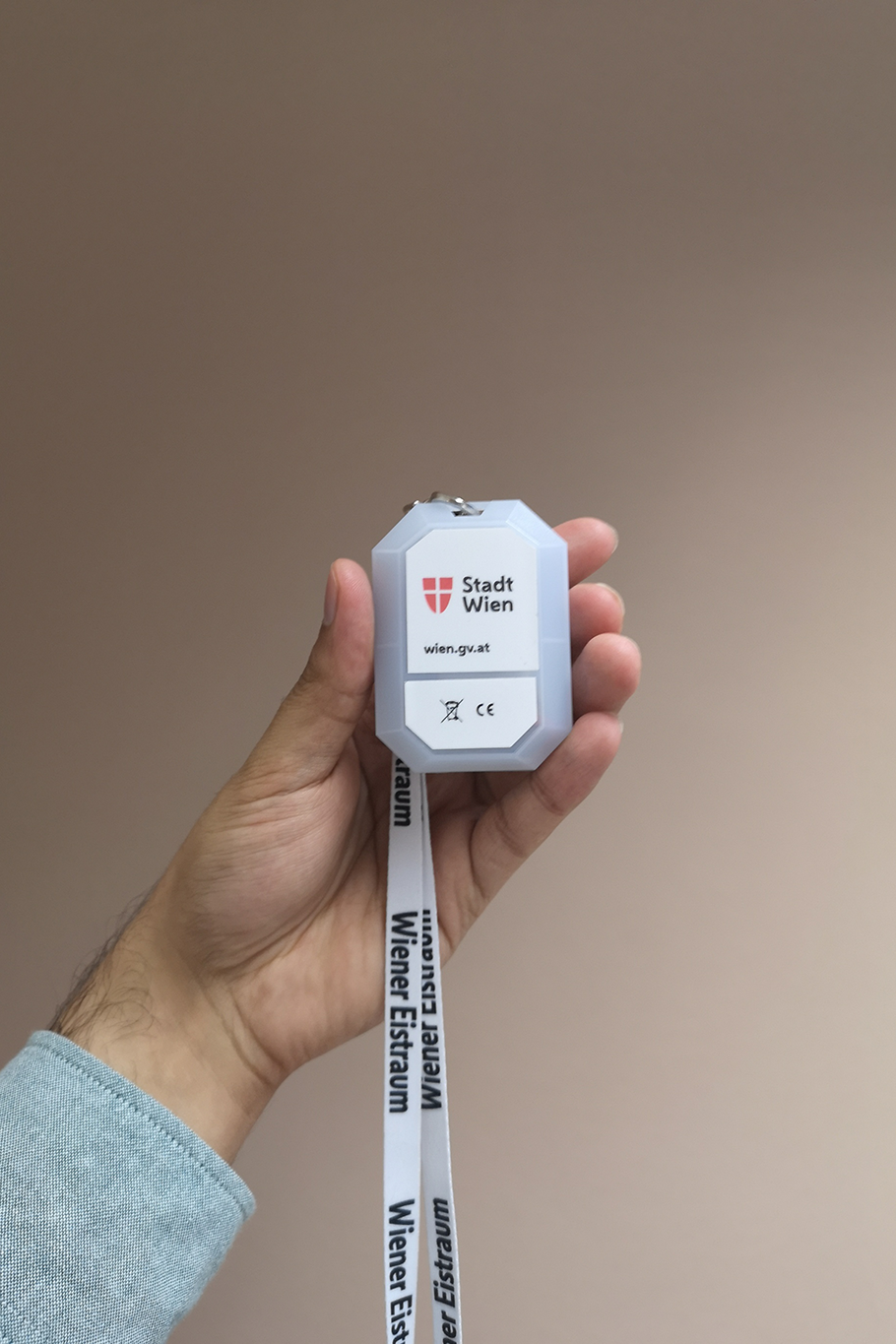 All visitors …
… need a valid ticket to access the Viennese Ice Dream. That also applies to accompanying and supervising persons who do not or do not want to access the ice rinks.

… must register with their name and a phone number (contact tracing).

… will be given a so-called Community Distance Marker, a small device that helps maintain the minimum distance from other people and records contacts with other guests, which can be passed to the health authorities in the case of an infection.
Your visit to the Viennese Ice Dream:
Please observe the general safety measures.

Purchasing a ticket: head to the counter area and buy your ticket. If you need a locker, please mention this when purchasing your ticket. All visitors must leave a €10 deposit for the Community Distance Marker (CDM for short).

Registration: take your ticket and go to the "Registration" counter. This is located opposite the ticket counter. Hand your purchased ticket to the staff and tell them your full name and phone number. You will now be given a CDM that is linked to your name. The marker must be worn at all times during your visit.

Skating: you can now enter the ice rinks and remove your face covering.

Leaving: 

as soon as you leave the ice rinks, please put your face covering back on. If you want to end your visit, return the CDM at the "Registration" counter. You will be given your deposit back and can leave the site.
Protective measures:
Wear a close-fitting face covering everywhere on site. Skating is the only exception.

Always keep a distance of at least 2 metres from visitors outside of your household as well as from employees.

Pay attention to breathing hygiene. Sneeze and cough into the crook of your arm or use single-use tissues that you can dispose of afterwards. Then sanitise your hands.

Stay at home if you have any symptoms that point to a possible coronavirus infection or if you feel ill or unwell.

Always pay contactlessly whenever possible.